Simple Huddle Room Solutions
What is a Huddle Room?
In Layman's terms, a huddle room is a small conference room. But the importance of a small, focused collaborative space could be just what you need. Projects can come up out of the blue, and getting together for impromptu gatherings and meeting with team members in outside locations might be needed.
Huddle Room Solutions
There are many huddle room solutions on the market today. Here are just a few that we commonly see here at VisionPoint.
The Cisco Webex Room Kit Mini
The Cisco Room Kit Mini is an all-in-one huddle room solution for video conferencing, providing a camera, codec, microphone, and speakers all within a single device. With native integration to WebEx and Cisco On-Premises solutions and the ability to dial SIP/H.323, The Cisco WebEx Room Kit Mini is easy to integrate in all environments
The Cisco Room Kit Mini also enables a wireless and HDMI connection so meeting participants can share content to the display from either source.
This solution will also provide smart meeting capabilities. The camera will identify people who are speaking and automatically frame them. It provides automatic noise suppression to increase speech intelligibility, and it can even provide people count to help with resource allocation.
USB Video-as-a-service Video Conferencing Kit
One well known example of a USB Video-as-a-service video conferencing kit would be a Zoom Room. But these sets up can work with a multitude of different products or platforms. All you need is a subscription to a software platform, like Zoom, a camera, AV bridge, a computer, and the means to connect the audio.
This is a great low-cost solution for organizations that are just beginning to adopt video conferencing, or do not have the budget to roll out an enterprise grade video conferencing room.
The Poly Studio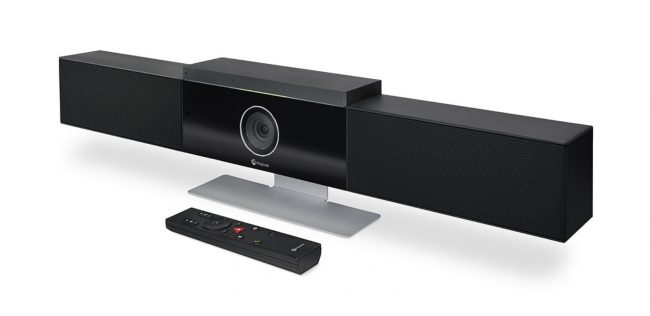 The Poly Studio is a great low cost huddle room solution if you you're running your meetings on a Video-as-a-service (Vaas) platform like WebEx, Zoom, etc. Like many other huddle room solutions the Poly Studio has a built in camera, speaker, and microphone.
One exciting feature that the Poly Studio provides is their patented NoiseBlock Technology, which creates an "acoustic fence" around the speakers so that only their voice is picked up. Any noise coming from outside the fence will not be picked up (mostly).
Crestron Flex Series
The Crestron Flex series provides a variety of video conferencing solutions that can be used in huddle rooms. With a line of tabletop solutions (M-series), phone solutions (P-Series), or all-in-one sound bars (B-series), we have had many situations where the Crestron Flex was the perfect fit. The Crestron Flex B-series has built in Zoom technology, natively integrates to Microsoft teams, and has the ability to connect to a computer via USB, allowing it to connect to most of today's top platforms.
If you are interested in huddle room solutions for your workspace please contact us at anytime.